You have already selected the total cups..!!
Choose Your Blends
Choose your cups below

Bold & Brazen
Like a kick in the cup! This bold blend offers a rich deep flavor with a smokey cocoa finish. Be bold and brazen without shame.

Bold & Brilliant
Deep and complex... just like you! Brilliant is our medium bodied bold that evokes a sense of smarty-pant comfort. Earthly caramel undertone!

Medium & Heroic
Be a hero today! This bold and burly blend comes from South America. It's sweet and slightly acidic tang satisfies the coffee crave.

Medium & Magnificent
Have an unreal day! Start with a cup of Magnificent in your cup. Tinge of fruit, yet sweet! Who wants to be magnificent? We do!

Vintage Vanilla
Our Vintage Vanilla is the bees knees. Its base of a medium South American blend spun and ground down with old school natural vanilla oils. The flavor it produces is extraordinary.

Happy Hazelnut
Our Happy Hazelnut is a heavenly blend of premium beans tossed with natural hazelnut oils and nut dustings offering a deep rich flavor that satisfies the palate.

Pumpkin Crush
Our Pumpkin Crush is created from our finely ground premium, medium roast beans then crushed together with the perfect amount of pumpkin essence and a touch of spice.

Mighty Mocha
Our Mighty Mocha is a decadent and indulgent blend. It is rich, and creamy, with a perfect balance of chocolate and coffee flavor notes.

Defiantly Decaf
You won't believe this is a decaf. It's a champion of deep, dark rich characteristics. It's been washed of its caffeine, but is drown in flavor.

The Conundrum - 1/2 Caff
The Conundrum blends equal parts of regular coffee beans and decaf coffee beans. This results in a coffee with half the amount of caffeine, but the same great flavor.
SUPER
✓
We are changing your coffee
Hang tight while our system processes these changes
About Tayst Coffees
Compostable Pods for Keurig
It all starts with the bean, the people who grow it and the soil it is sown. We only select the finest beans from some of the most fertile soil on the planet, giving our beans the finest roasted flavors. We support farmers and communities through the Rainforest Alliance; an organization that works with coffee farmers to improve their livelihoods and the health and well-being of their communities.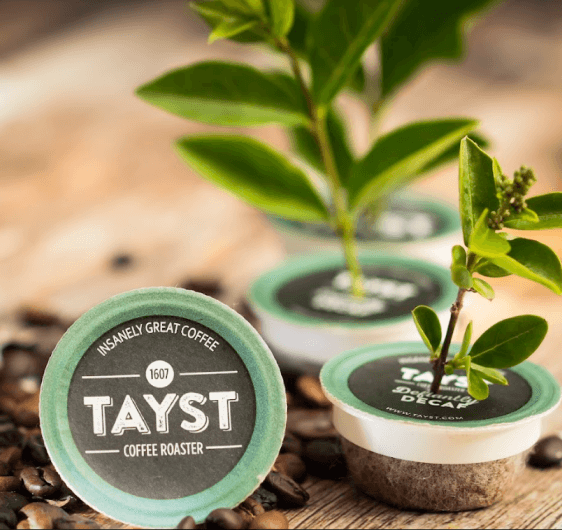 Add Meaning to your Morning
The Tayst Pod
We searched for a year to find the right mechanism to distribute our coffee properly that wouldn't harm the planet. What we found was fantastic! We found insanely great coffee and a single serve pod that is awesome for the planet. Tayst pods are 100% compostable… meaning they actually gives back fertile nutrients to the soil as it decomposes.
Our Innovative Lid
Our lid uses a combination of paper and other 100% compostable materials. We use compostable inks to make it fancy.
Earth Friendly Packaging
We're committed to sustainability. We use recycled and recyclable materials. We continue to reduce our footprint.