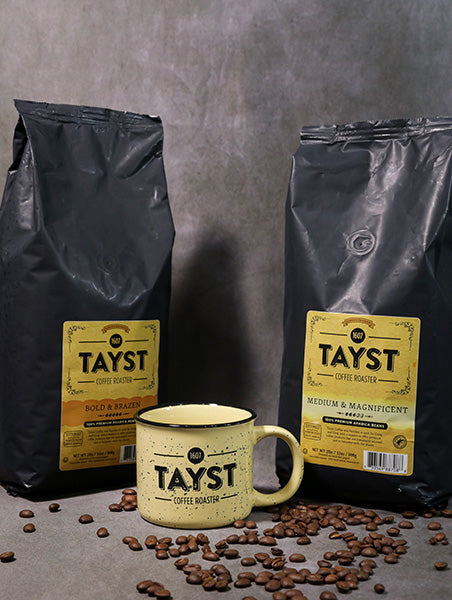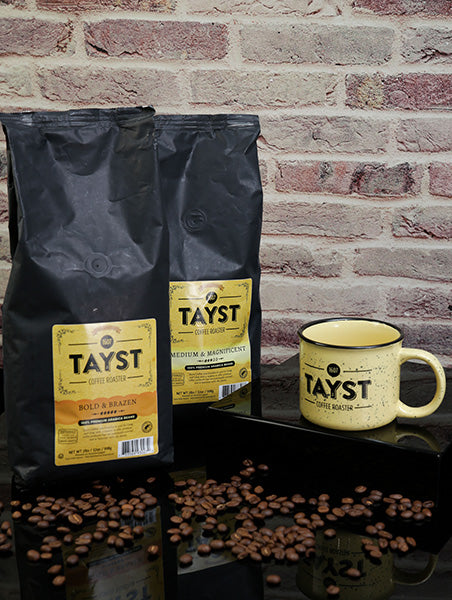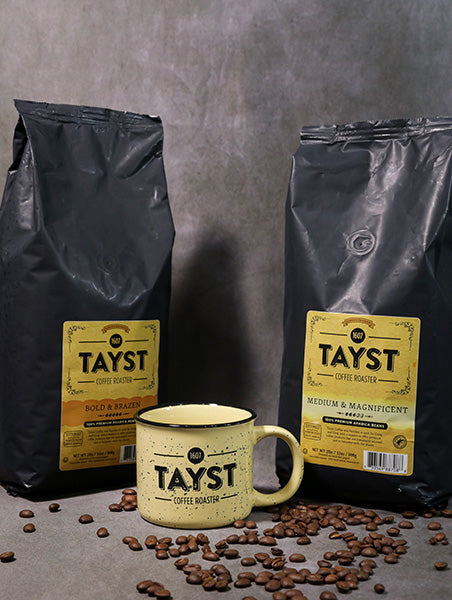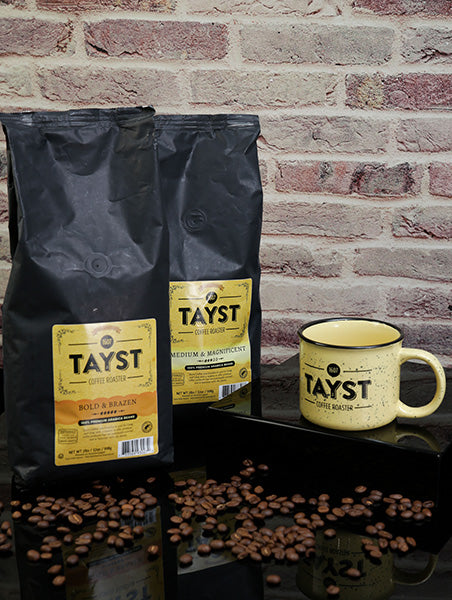 $50 Whole Bean Coffee Gift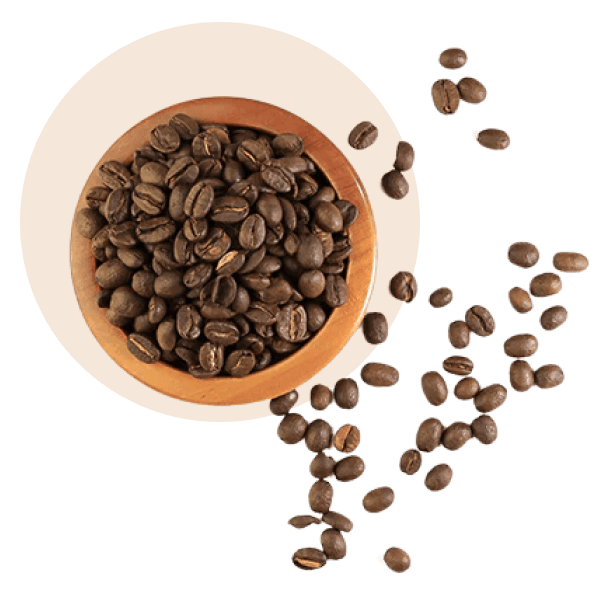 Product Description
This coffee gift is perfect for any coffee lover.  The $50 Ground Coffee Gift box is packed with two cans of our freshly ground coffee,  A 13oz Tayst Coffee Mug, along with a canvas tote will be cushioned into our burlap and twine packed box.  We'll include your message on a personal note.
2 10.5oz cans of freshly ground blends of your choice
1 Tayst Coffee Mug
1 Eco Friendly Canvas Tote
Personalized note
Remarkable coffee. Better planet!
Your favorite beans are now available in two pound bags! Our small batch beans offer a consistent, deep, rich flavor profile. Our beans can be ground to any level for your drip brew, pour over, or french press.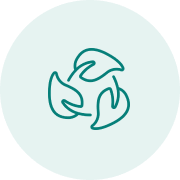 Roasted Fresh Daily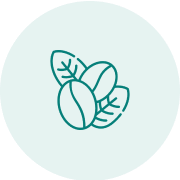 Voted #1 tasting ground coffee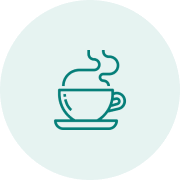 Available in 3 premium flavors, including decaf!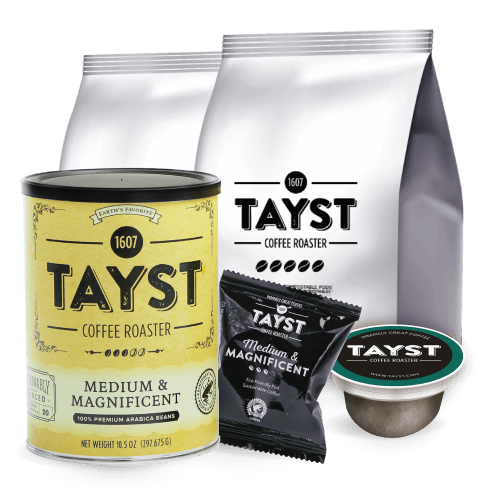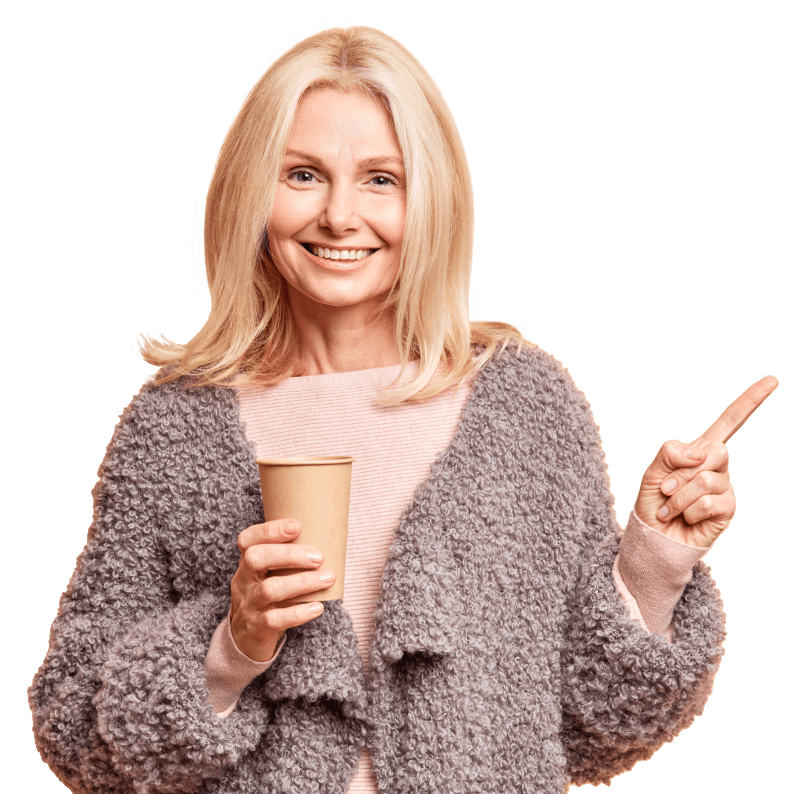 Why Tayst Coffee?
Sustainably Sourced

Only Top 3% of Beans

Mycotoxin & GMO Free

Low Acidity

Doing Good Feels Great!

Frequently Asked Questions
What types of coffee beans does Tayst offer?
We currently have 3 coffee whole bean flavors available, and continue to add more regularly. Our current lineup includes:

• Bold & Brazen
• Medium & Magnificent
• Defiantly Decaf
What Makes Tayst Different?
Our mission to sustainability is connected to every aspect of the Tayst Coffee Brand. Rainforest Alliance certified coffee farmers. Biodegradable packaging. From harvesting the coffee bean to brewing a cup of coffee, this ethical cup of coffee doesn't just taste good but makes you feel good as well.
Where is your coffee from?
It all starts with the bean, the people who grow it and the soil it is sown. We only select the finest beans from some of the most fertile soil in South America, giving our beans the finest roasted flavors. We support farmers and communities through the Rainforest Alliance; an organization that works with coffee farmers to improve their livelihoods and the health and well-being of their communities.
How to grind coffee beans
There are specific bean grinders on the market that you can use to grind up your organic coffee beans. If you don't want to buy that, you may be asking "can I grind coffee beans in a blender?" The answer is yes! Put your whole beans in the blender in small batches (about ¼ cup) and pulse on medium speed until beans are ground up consistently. Make sure not to over-blend and heat up the beans, that could cause a harsh bitter tasting coffee.