In-Room Brewers
However you brew, we've got you covered










Keurig® Compatible
Coffee Machine with tank
This Single-cup brewing system boasts a patent heating technology for an instant brew of 6, 8, or 10oz cups of coffee. The removable clear water reservoir is BPA free, and has a 45oz fill capacity.



Nespresso Original Line Compatible
Espresso Machine
Perfect for for shot, mid, and long pull espresso
This Nespresso compatible machine offers everything you want and more. With an optional ultra high temperature feature, and settings for long, short, and americana pulls, you can control exactly how much espresso you want and how hot. When you're ready for sipping, the capsule will be auto ejected into a bin that can fit up to 10 used capsules. This machine is not Vertuo Compatible.
Works With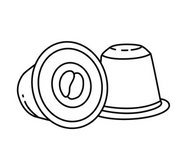 Capsules for Nespresso












Keurig® Compatible
Coffee Machine
A compact size, and a sleek look
This single-cup brewing system for use with K-Cups has one-touch control button with illumination, and a detachable lid. Brew up to 10 oz of consistent and delicious coffee every morning.
Sustainability
From Our Door to Yours

Carbon Neutral Shipping
Carbon-neutral shipping reduces the carbon footprint associated with shipping packages. Since carbon-dioxide is one of the leading reasons for climate change, ordering from companies with carbon-neutral shipping brings us one step closer to helping protect the environment.

Eco Conscious Packaging
Even our shipping boxes are made for sustainability. Our boxes cardboard boxes are 60% to 95% post-consumer waste. This means fewer trees need be cut down, and it keeps old boxes and other materials out of our landfills. All our boxes are 100% recyclable.